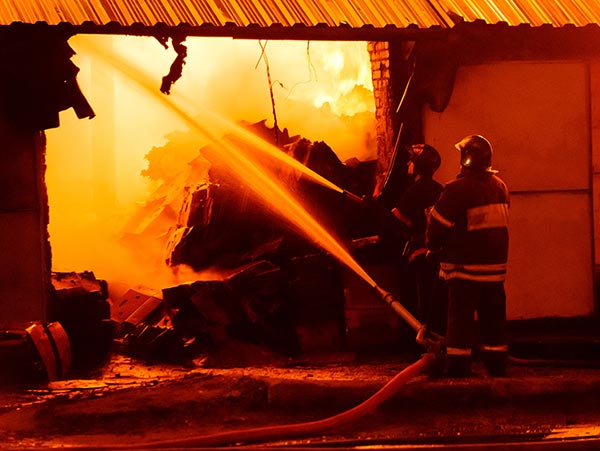 Fires destroy property, cause injuries, and take lives.  Workplace fires can also mean the termination of jobs.  The best way to teach employees how to prevent workplace fires is through fire safety training.  If employees know the best ways to prevent fires, they can help promote a safer workplace.
Tips to prevent workplace fires include:
Keep the workplace free of litter and construction debris which can act as fuel for fires. Don't block exits and emergency equipment with clutter.
Post emergency telephone numbers and the company address by the telephone in all areas.
Clear and visible signs should mark all hazards and potential fire risks.
Smoke only in designated areas. Completely extinguish all smoking materials.  Never smoke in chemical storage areas or storerooms.
Perform routine maintenance on all machinery to prevent overheating and friction sparks.
Promptly repair faulty wiring and malfunctioning electrical equipment with a qualified electrician.
Never block emergency exits, sprinklers, or firefighting equipment.
Electrical cords or wires shouldn't run under rugs or carpets, or near a heat source. Never run them through doorways where they can become worn.
Never store material or equipment in front of electrical control panels because it could delay power shutdowns in an emergency.
Use and store chemicals safely by following the Safety Data Sheets (SDS) information about flammability and other fire hazards. Be sure to provide adequate ventilation when using and storing these substances.
Be aware of possible ignition sources, such as flammable liquid vapors or fine particles. Control static electricity and use tools that don't spark.
Learn how to use a fire extinguisher correctly. Know where they are located and which extinguisher to use for the specific fire.
Fire drills need to be conducted regularly so workers and employers will know what to do if a fire occurs.  Practicing what to do if a fire occurs can help identify flaws in the emergency plan so that they can be corrected.  If a real fire occurs, practicing will build confidence and help everyone remain calm.
Call Fire Control Systems to help train your employees on how to prevent workplace fires.